At The Rodon Group, we think our quality certifications such as ISO 9001:2008, HACCP and recently certified GMA-SAFE demonstrate our commitment to providing the best possible parts at the most competitive prices. However, our commitment goes beyond certifications. We have a staff of quality professionals whose sole focus is making sure we produce plastic parts that are as perfect as possible.
Quality is a team effort
The head of our Quality Department is Bob Dean. A seasoned manufacturing veteran, Dean came to The Rodon Group over eight years ago with a quality assurance background in the electronics industry. His experience, with small and complex electronic parts, was a great training ground for the precision injection molding environment. He oversees a team of quality professionals. These inspectors know plastic injection manufacturing and what to look for throughout the process.
A two-step quality inspection
Dean oversees the two major components of our quality inspections. They are first-piece inspections, and in-process inspections. The "first-piece" inspections are performed in the metrology lab. The parts are then inspected in the lab. They are checked dimensionally, functionally and cosmetically. If the parts pass inspection, the manufacturing job is put in queue for full production.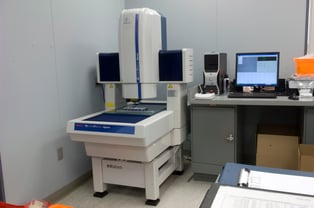 After the job is in production, the second phase of the quality inspection is put in place. This phase is called the "in-process" inspection. While the jobs are running on the production floor, parts are sampled and inspected to make sure they are in compliance with the part specifications. These inspections are coordinated using an electronic scheduling system and are displayed on a screen which visually maps out the locations on the production floor.
High precision parts with tight tolerances are tested or measured during every shift. Using statistical analysis, if any shift or deviation is detected, the production department is notified for a quick resolution.
Quality parts require quality measurement tools
To accurately measure quality compliance you need the right tools for the job. At The Rodon Group, the metrology lab is constantly analyzing and evaluating new equipment and measurement devices to maintain our high standards. Along with a full array of tools to test compression, tension, weights and dimensions, the lab has vision measurement systems and color inspection equipment. Of course, a full complement of traditional inspection tools such as calipers, microscopes, micrometers, dial and digital indicators are also part of the inspection process.
More than just ISO Certified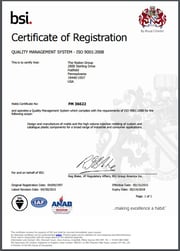 According to Dean, becoming ISO certified is just the first step in the process. Manufacturers, like The Rodon Group, must commit time and resources to the maintaining ISO standards. "All employees are responsible for ensuring our conformance to the standard by doing their part in following documented processes and procedures", says Dean. "We operate a Quality Management System, which complies with the requirements of ISO 9001:2008. Our ISO Management Rep, Keith Hallman, is responsible for managing our Quality Management System. Keith's primary efforts include document control, internal audits, facilitating corrective & preventive actions and disseminating ISO updates."
99.8% acceptance rate
At The Rodon Group, we are proud of our 99.8% quality parts rating. It shows our commitment to making the highest quality injection molded parts, right here in the U.S.A. Our Quality Manager, Bob Dean, says it best:

"I think what makes us stand out is that we understand our customers needs and continue to invest in equipment and training to meet those needs. Over the years, we've added equipment such as vision systems for part measurement, a spectrophotometer for color measurement and a light booth for evaluating color, just to name a few. And with this new equipment and technology comes greater accuracy and efficiencies as well as improved customer satisfaction."
He goes on to say "We have continually evolving and growing customer demands. With the new equipment, we can quickly and more accurately identify if product standards are being met; which leads us to improved quality."
Focus on quality
Everyone at The Rodon Group is focused on quality. From our administrative staff who handles every inquiry with professionalism to our engineers who continually look for ways to improve part design and production, the entire Rodon organization has a true understanding of what it takes to be considered one of the best plastic injection molders in the United States. It is a reputation we take pride in and are inspired to improve upon every day.