All of our equipment and molds are cooled using water that runs in a closed loop throughout the building. This water is pumped into cooling towers which are designed to remove heat from the water as it runs over louvers inside the towers. The heat is removed using a fan mounted to the top of the unit.
The fans on the new towers will use less than half the power of the old. Because of the newer technology we actually have more cooling capacity on the same footprint as we had with our older towers, which were 20-30 years old. The new towers are also designed to reduce water loss.

As far as the process of swapping out the towers, a 60-foot crane was required to remove the old ones and stack them onto a waiting flat-bed trailer to have them re-cycled for their steel value.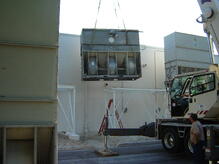 The new ones were delivered on two flat-beds, and the fan housings, composite cooling fan-blades and the fan motors had to be installed into the new ThermalCare cooling towers, prior to mounting in location. They then had to be positioned carefully and welded to the existing steel tower supports. Prior to this, the tower supports had to be sand-blasted free of old paint and rust.
We had two of our contractors here on July 2, 3 and even the 4th of July, working around the clock to have them prepped for Tuesday morning.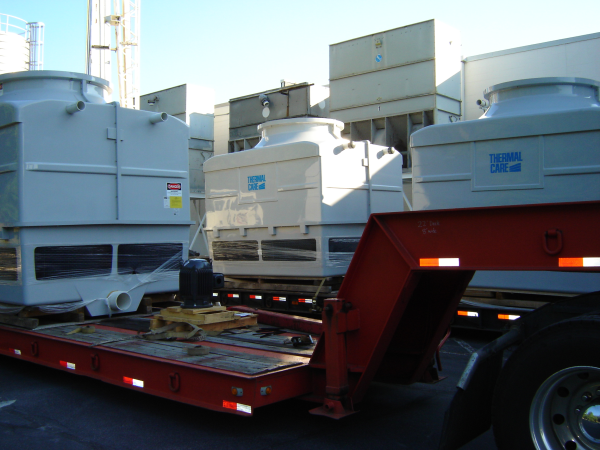 If any of this choreography fell through, it would have thrown the entire project into disarray. Fortunately, with the help of our excellent contractors, and a lot of hard work by many within the Rodon organization, it came off beautifully. It is also worth noting, that we cannot mold product without cooling water, so everything HAD to come together for our plant-wide re-start on July 10. It didn't leave a lot of time for contingencies. And we needed the weather to cooperate, which it did, at least right until we were done! The new units help us save more energy and water, are maintenance-free, and are constructed of a Fiberglass housing which won't rust or be affected by the weather. There is also a high-efficiency, sealed fan-motor and fan blades made of a glass-reinforced plastic.