On April 22, 2012, the 32nd Earth Day will inspire "random acts of greenness" around the world. Earth Day was started in 1970 by U.S. Senator Gaylord Nelson. After witnessing the environmental impacts of a California oil spill, Mr. Nelson wanted to harness the power of the public to make a positive impact on the environment.

Over the last few decades, this new environmental awareness has grown, and it greatly impacts the way we manufacture products. The increased focus on sustainable manufacturing has helped thousands of local manufacturers save money and the environment at the same time.

What is Sustainable Manufacturing?
The Department of Commerce defines sustainable manufacturing as "the creation of manufactured products that use processes that are non-polluting, conserve energy and natural resources, and are economically sound and safe for employees, communities, and consumers." Manufacturing companies should put processes in place that are both earth- friendly and economical.
Best Practices for Sustainable Manufacturing
At The Rodon Group, we speak from experience. We have made many improvements to our processes and facilities that have benefited our bottom line and the environment. Some of these changes cost little to implement, but they can have a positive impact on your operating expenses.
Three targets for sustainable manufacturing include:
• Improving energy efficiency
• Reducing Waste
• Recycling
Improving Energy Efficiency
While it seems to be a simple task, changing your factory lighting can have a huge impact on operating costs. We estimate a $5000 per month savings on energy consumption linked to that one change alone. By working with our local utility company, we are discovering ways to reduce consumption even further. Many electric companies now offer rebates based on the savings realized through their programs.
Reducing Waste
Companies who want to reduce their waste output must analyze their end-to-end processes to uncover areas of opportunity. By upgrading our robotic capabilities we are able to capture and recycle any scrap plastic automatically. This automation is used in product packaging as well and reduces the number of boxes needed for each shipment. This reduction has a residual impact on shipping and fuel costs.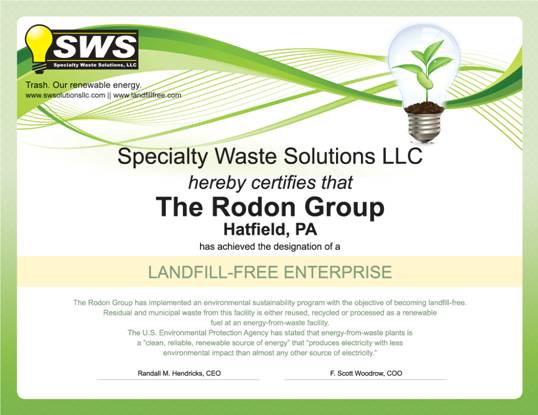 Recycling
Along with recycling plastic as part of our molding operations, we recycle any waste created in our plant and are one of the first molding facilities in the area to have been designated as a "Landfill Free Facility" by Sustainable Waste Solutions, LLC. Sustainable Waste Solutions, LLC (SWS) provides a landfill free alternative for recycling, waste transportation, and disposal to companies of all sizes and across a broad range of industries throughout Southeastern Pennsylvania, Lehigh Valley and Delaware. Using a state-of-the-art, energy-from-waste resource recovery facility, they generate enough electricity from waste to power tens of thousands of homes per day in Southeastern Pennsylvania.