We have all heard about the positive impacts of manufacturing on our economy, but did you know that junior and high-school students are no longer pursuing these well-paid jobs? Well, at The Rodon Group we have put a great deal of effort into getting the word out about STEM education and the great long-term careers this industry provides.
Part of our campaign involves a national movement called Manufacturing Day. This annual event began in 2012. It was the brainchild of the Manufacturing Extension Partnership, the Fabricators and Manufacturers Association and the National Association of Manufacturers.
In its first year, the event was hosted by 200 manufacturing companies nationwide. In 2013, the event spread to over 800 manufacturing companies who conducted presentations, tours and hands-on challenge contests. So far, this year, nearly 700 have signed-up, over 40 in Pennsylvania alone.

The goal is to have Manufacturing Day become a recognized American holiday because this industry sector contributes so much to the well-being of the U.S. economy. It is estimated that for every $1.00 of good produced, manufacturing generates an additional $1.43 for the Economy. Each manufacturing job creates at least 2.9 jobs in other sectors. Yet, only 30% of parents encourage their kids to enter manufacturing careers. These stable, well-paid jobs are just what our economy needs to re-establish our middle class.
A recent report from the Manufacturing Institute entitled "Roadmap to Education Reform for Manufacturing" highlighted the weakness in the education of our children in the core STEM subjects. Citing research from The National Defense Industrial Association, 74% of students between 5th and 12th grade, do not have access to or interest in math and science coursework. These are the very skills that we need in the new high-tech world of manufacturing. A Raytheon study found that 28% of 8th graders are not proficient in basic math skills, and yet 60% of parents believe math is critical to the future success of their children.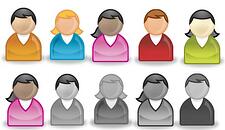 Six out of Ten Parents Believe Math Skills are Critical to Success
Clearly, we have a gap that needs to be addressed quickly. This urgency has prompted many companies to invest in primary education. Raytheon has been on the leading edge of this corporate involvement with their "Math Moves U" program. Alcoa has strategically teamed up with Discovery Education to create a website "Manufacture Your Future" with resources targeted to parents, teachers and counselors. Parents may find it difficult to discuss manufacturing careers. This website offers a guide to getting the conversation started and lesson plans for STEM activities to engage kids.
In order for STEM to become a focal point of our educational system parents, teachers, corporations and non-profits must all work together to create strategies for the next generation. Our sister company, K'NEX has made STEM learning a driving force behind product development. In a recent interview with STEM Connector, our President and CEO Michael Araten discussed the importance of STEM education.
"STEM is the heart of innovation. Innovation drives growth, profits & the roles of the future. There are 1 million unfilled manufacturing jobs in the US today. These jobs are unfilled because the employers can't find people with the required skills. Manufacturing has changed dramatically in the past 20 years, with skilled jobs requiring computer skills, robotics and the ability to understand and operate complex equipment." stated Araten.
"STEM Education and workforce development provide students with the skills they'll need to obtain good jobs in the future—the very skills that employers need. Without tech-savvy workers, the number of unfilled manufacturing jobs will increase. Today's sophisticated manufacturing environment requires a higher degree of skill adaptability and entrepreneurial spirit from its employees." Araten continued, "Our investment in advanced technology and more efficient equipment has given us a competitive edge over overseas manufacturers, so we are well poised in this new economic environment. We need employees who can use this technology. All across the country, skilled manufacturing workers are in great demand. These jobs are solid, well-paying, long-term careers. STEM education prepares students for these careers. STEM education fosters critical thought, science literacy and innovation. Innovation requires education. Workers with STEM credentials are better educated. "
So, the next time you are talking to your children about their educational goals and their futures, remember to discuss STEM careers and the skills they will need to have fulfilling, secure futures.
Look for future blog post coverage on our Manufacturing Day Event.